Vintage French Mannequin Head Meet "Lana"
Two of my readers had spotted my mannequin head in my photos of my booth at Lonestar Antique Mall.  Today I went to take closer pictures of "Lana" as requested by one of my readers but forgot my phone so I brought her back home for the evening, since I was taking pictures I figured I would introduce "Lana" on my blog.
Lana is a 1930's Plaster Mannequin made by french maker Lamoureaux in New York City, I bet she saw many pretty hats and jewelry and resided in a very fine dept. Store, oh the stories I bet she could tell.
When I found "Lana" she was up in the rafters of a barn. She was very dirty and her hair was matted I am sure she was feeling a little unloved.........,  I lovingly cleaned her and as an ex hairdresser I had a blast washing, conditioning air drying and then curling her hair, as I cleaned her up and started styling her she really reminded me of Lana Turner hence the name Lana.  I probably had a conversation with her while styling her but don't tell anyone.........
I have only been able to find two others like her on the net and they were on ebay both were from 275-375  I got my girl for a price that alllows me to offer her for much less.  I do wish I would have done the old fashion fingerwave and pin curls on her that you still have to learn in order to get your cosmetology license she really needs longer layers to get a good side fingerwave effect (fingerwaves and pincurls would have been all the rage in her time)
Closer look at Lana
Lana would be at around 82 I think she is holding up pretty well, her lips are still beautiful. Lana has real hair that is washable, dryable, curlable and you can use a curling iron on her as well.  Her hair is a died blondish reddish color
I fell in love with Lana's patina, I personally would not have her restored.
I love the gold and red coloring of her dress
Lana's base and structure are cracked on the outside but sound in the base she should be around for many ,many many more generations now that she has been saved from barn rafter conditions
Here is one on ebay that would be her darker haired version, looks to be made around the same time
Thanks for stopping by to meet "Lana"
Sherry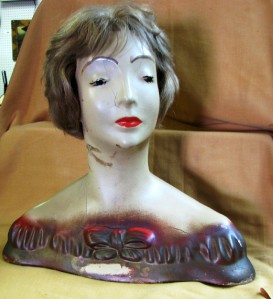 ---